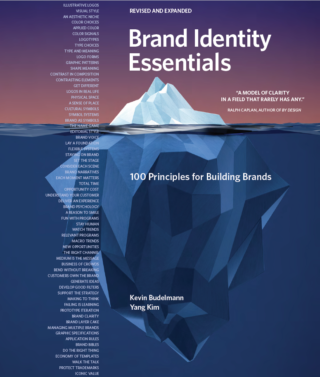 Brand Identity Essentials
Our book is available in six languages and is in its second edition.
A brand is the perception of value in the mind of your customer. A clear brand focus can shape how your customers think and what your company can do.

Connect with your customers more deeply.
The world's most successful brands connect with how people think about themselves – brands are an expression of their own identity. Brands can inspire how people think about themselves, which group they belong to, and how they make decisions.
Own your story.
Brand meaning is a key question involving positioning – making strategic choices about audiences and promises. Brand identity is about perception, what people think, and what you might want them to think. Future-proof brands reflect the values of the people they serve beyond today's products and services.
Manage your evolution.
Some markets rely on a sense of stability and consistency. Others thrive on change. You might not expect a law firm or bank to change on a whim, but media companies or other organizations more closely tied to pop culture expect change. In the race for brand differentiation, however, the rules are loosening. Next-generation law firms are embracing the new, and bank brands once built on stability are eager to redefine themselves.