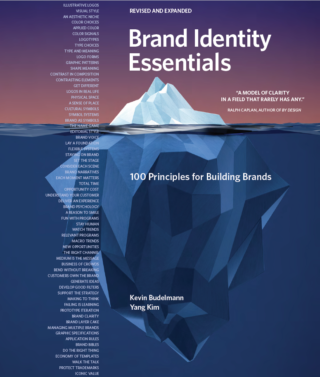 Brand Identity Essentials
Our book is available in six languages and is in its second edition.
Make better things. Make things better.
Yang's office at Herman Miller.
Prehistory
Peopledesign co-founders
Yang Kim
and
Kevin Budelmann
have been collaborating since they met at
Carnegie Mellon University
, pursuing degrees in design. They worked on projects, together and separately, as freelancers and interns, at a variety of places, working at being students of the world. After college, they both moved to Michigan to work for
Herman Miller
.
Yang quickly developed a strong collaboration with the company's legendary Creative Director, Steve Frykholm. A highlight of their many award-winning projects was a decade of annual reports. For many graphic designers, these ten books are some of the best in the category.
Meanwhile, Kevin worked on many programs and initiatives, helping start the company's first website. This new territory was an exciting wild west for communications and brand design and a place he could begin to spread his wings in the emerging fields of interaction and UX design.
In January 1997, Yang and Kevin left their positions to start a new agency, BBK Studio (our original name), with our colleague, Michael Barile.
Early days
Our living room was our first office – but that didn't last long. Within a few months, we had moved to an office just north of Grand Rapids. The Plainfield Avenue office was our home for several years, where we experienced the freshness of a new business and rapid growth. We continued to work for Herman Miller, on their annual reports and website, for others in the category like
Steelcase
and later
Knoll
, and for notable brands like
Jaguar Cars
and
X-Rite
(who now owns Pantone), and many other companies. From the start, our work was a 50/50 split between traditional and new media. We work naturally across media, serving us well and remaining a core strength.
By 2001, things were changing. The company had grown, and we moved to a building in downtown Grand Rapids. Michael left the company in the post-dotcom 9/11 era, and we started on a new path.
Our work garnered attention.
Graphis
and
Encyclopedia Britannica
featured our projects as examples of leading UX design. We participated as judges and speakers at events by
AIGA
,
AAF
,
PRSA
,
PDMA
, and other design industry groups. As we expanded our reach, a Mexican design organization asked us to speak at a National Design Conference in Acapulco.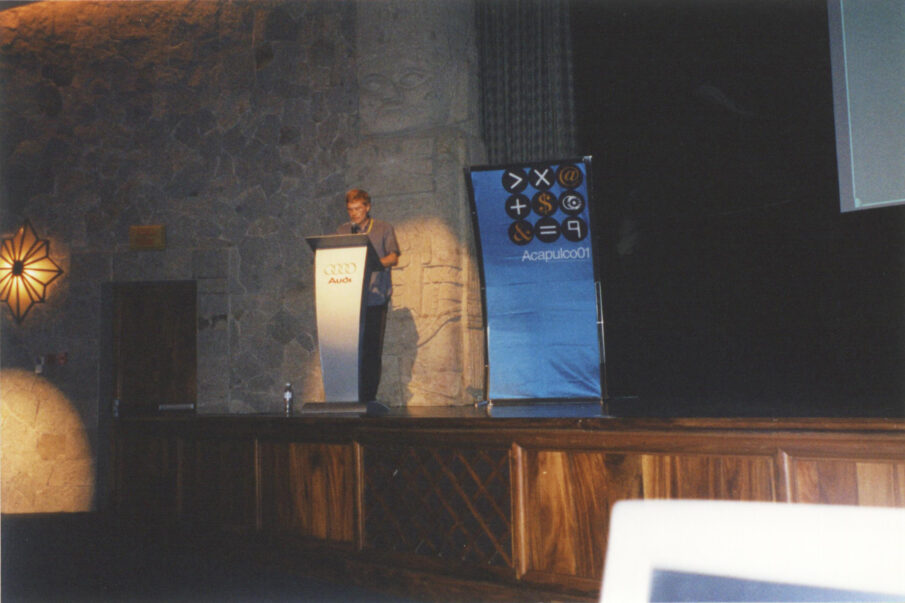 Mexican National Design Conference.
A new direction
In 2007, on our tenth anniversary, we changed our name to Peopledesign to reflect our maturing outlook on user-centered design and collaboration and threw a party for ourselves to celebrate.
We took on more significant challenges, focusing on user research and strategy. We learned more about how design and business intersect at
Harvard Business School
and other places. We helped launch Spout and
ArtPrize
and managed an extensive rebrand of
The HON Company
.
In 2010, our first book,
Brand Identity Essentials
, was published. It is now available worldwide in six languages, with a revised and expanded edition in 2019.
Yang's creative peers named her among the "most influential graphic designers working today" in
GD:USA
. She earned a Silver Medal from the
AAF
and became an
AIGA Fellow
.
In 2013, we moved our office for a third time to a renovated office building in the historic heart of Grand Rapids. Our
office
and team reflect who we are today and aspire to be tomorrow.
The next chapter
By 2020, Kevin had become
President of IxDA
(the Interaction Design Association), serving on the Global Board of Directors for five years. Today Kevin also teaches information strategy at
Northwestern University
.
We are honored to be surrounded by so much talent. Here are our current and former teammates who have helped make it happen.
Chas Appleby, Michael Barile, Josh Best, Ted Bingham, Carrier Borchers, Bill Braden, Michele Brautnick, Karen Bryan, Kevin Budelmann, Tim Calkins, Marie-Claire Camp, Gina Caratelli, Michael Carnevale, Devon Carlson, Emily Cowdrey, Kelly Beat, Von Franklin, Brian Hauch, Jake Himmelspach, Heather Jensen, Jennifer Johnston, Steven Joswick, Laura Kain, Jenn Karel, Yang Kim, Scott Krieger, Ross Labardee, Kristin Landgraf, Jessica Lee, Ryan Lee, Sarah Lockwood, Pete Lusch, Jackie McLane, Geoff Mark, Briana McNamara, Jason Murray, Michael Nykamp, Kelly O'Hara, Sharon Oleniczak, Kaila Parent, AJ Paschka, Alison Popp, Diana Racek, Jane Reardon, Adam Rice, Julie Ridl, Matt Ryzenga, David Schofield, Kelly Schwartz, Diana Sherman, Jeff Sikkema, Victor Sirotek, Jason Six, Jamie Smyth, Nancy Stryker, Chris Taylor, Aaron Vanderzwan, Kim VanKuiken, Jeanne Weaver, Andy Weber, Leah Weston, John Winkelman, Curt Wozniak.