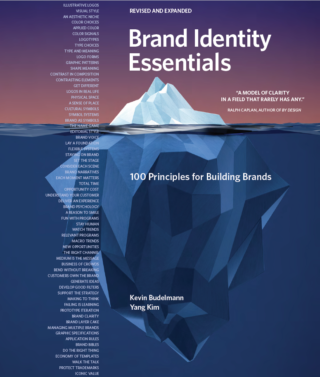 Brand Identity Essentials
Our book is available in six languages and is in its second edition.
This Privacy Policy describes how your personal information is collected, used, and shared when you visit peopledesign.com (the "Site").
When you visit the Site, we automatically collect certain information about your device, including information about your web browser, IP address, time zone, and some of the cookies that are installed on your device. Additionally, as you browse the Site, we collect information about the individual web pages or products that you view, what websites or search terms referred you to the Site, and information about how you interact with the Site. We refer to this automatically-collected information as "Device Information."
We collect Device Information using the following technologies:
"Cookies" are data files that are placed on your device or computer and often include an anonymous unique identifier. For more information about cookies, and how to disable cookies, visit http://www.allaboutcookies.org.
"Log files" track actions occurring on the Site, and collect data including your IP address, browser type, Internet service provider, referring/exit pages, and date/time stamps.
"Web beacons," "tags," and "pixels" are electronic files used to record information about how you browse the Site.
When we talk about "Personal Information" in this Privacy Policy, we are talking about Device Information.
How do we use the information?
Cookies are simple text files that are stored on your computer or mobile device by a website's server. Each cookie is unique to your web browser. It will contain some anonymous information such as a unique identifier, the website's domain name, and some digits and numbers.


What types of cookies do we use?
Necessary cookies: Necessary cookies allow us to offer you the best possible experience when accessing and navigating through our website and using its features. For example, these cookies let us recognize that you have created an account and have logged into that account to access the content.
Functionality cookies: Functionality cookies let us operate the site in accordance with the choices you make. For example, we will recognize your username and remember how you customized the site during future visits.
Analytical cookies: These cookies enable us and third-party services to collect aggregated data for statistical purposes on how our visitors use the website. These cookies do not contain personal information such as names and email addresses and are used to help us improve your user experience of the website.


If you want to restrict or block the cookies that are set by our website, you can do so through your browser setting.
We may update this privacy policy from time to time in order to reflect, for example, changes to our practices or for other operational, legal, or regulatory reasons.
For more information about our privacy practices, questions, or complaints, please contact us by e-mail at [email protected] or by mail: People Design, Inc., 168 Campau Promenade #200, Grand Rapids, Michigan 49503, USA.