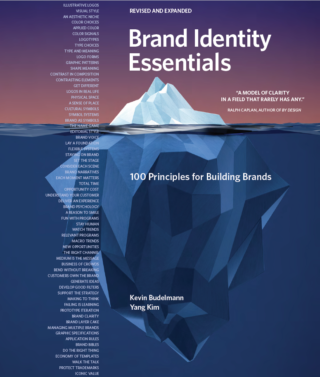 Brand Identity Essentials
Our book is available in six languages and is in its second edition.
Creating an identity for the world's largest art prize.
ArtPrize approached us to create a brand around the largest cash art prize event in the world. Our challenge was to reach three disparate audiences – a global audience of artists, a local audience of venues, and a regional community eager to participate.
We began by researching key audiences to gain a better understanding of what they find meaningful. With our key findings, we built a set of brand guidelines for ArtPrize to use and build on.
The logo we created for ArtPrize strives to reach all three of the event's audiences. Calder's La Grande Vitesse is a familiar symbol of Grand Rapids, a city that values public sculpture as an important part of its civic identity. To the Grand Rapids audience, this symbolizes not just the Calder, but the city turned on its side. A new perspective. To a global audience unfamiliar with La Grande Vitesse, the logo may represent a desire to transcend language. A code. A cipher. A key.
One event, multiple audiences, heading into the unknown; social success branding was adopted across multiple items from promotional advertisements to apparel, water bottles, pens, and more. The logo is still in place today and in that first year (2009) more than 200,000 visitors experienced the ArtPrize brand. From the logo to the wristbands, wayfinding system, and "Ask Me" t-shirts, many of the systems Peopledesign set up in that first year are still in place.
Through his focus on the design process and a strong, holistic approach to his projects, Peopledesign has always been able to deliver a high quality of work. This is why I count Peopledesign within a limited list of advisers whom I implicitly trust.
Bill Holsinger-Robinson
Executive Director