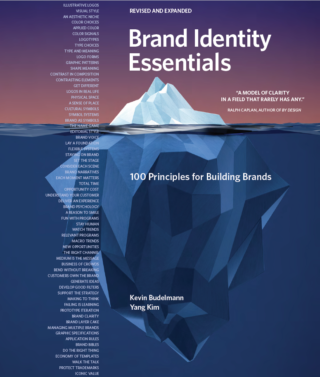 Brand Identity Essentials
Our book is available in six languages and is in its second edition.
Image
Color
Typography
Shape
Contrast
Dimension
Symbols
Voice
Consistency
Story
Time
Brand tools are the most familiar to creative teams, however, everyone has an opinion about them. They often involve
aesthetic judgments about brand expression
. Rather than viewing them as entirely subjective opinions, designers see them as creative tools. Leaders can make better decisions when they understand the palette of brand tools. Brand builders can encourage teams to dig deeper and guide choices based on strategy.
Above: Hamilton by Nicky Lindeman/SpotCo agency
"Brand Identity Essentials, Revised and Expanded" by Kevin Budelmann and Yang Kim, published by Rockport Publishers, an imprint of The Quarto Group. Copyright © 2010, 2019 Quarto Publishing Group USA Inc. All rights reserved.