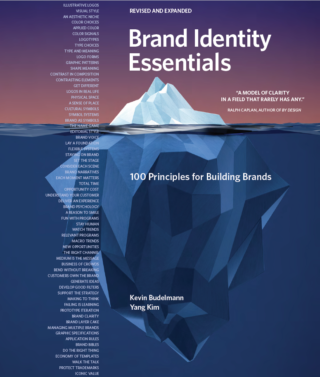 Brand Identity Essentials
Our book is available in six languages and is in its second edition.
A strategy is an integrated set of choices that
positions
a firm in an industry so as to generate superior financial returns over the long run.
Leaders decide what problems to solve. It's incumbent on leaders to decide how a product, service, or company is positioned, but too often, positioning is viewed as writing or merely how things should look. Aesthetic choices are important expressions of strategy but they aren't themselves a strategy.

When it comes to positioning, the questions are easy but the answers are hard. We create and refine company positioning by helping them answer the five key positioning questions:


Audience – Who is your user, customer, influencer?

Category – Where are you going to play?

Claim/Promise – How are you going to win?

Brand/Offer – What identity encapsulates your meaning?

Support – How will you deliver on your promise?
Strategy definition and positioning framework from the Harvard Business School.

Positioning is often equated with branding and branding is too often viewed as merely cosmetic. Our book addresses this and other brand topics. The iceberg on the cover serves as a metaphor for what is unseen when it comes to building brands.
It's easy to assume you
know your customer
. Any existing business or industry is based on selling to a known audience, however, this equation is often lopsided. Too much internally-focused optimization can lead companies and entire industries to drift away from their customers.
People can tell you what they want, but often they can't tell you what they need. Understanding what your customers really need requires research.
Helping companies connect with their customers is, in part, our reason for being.
The industry in which you play is also not obvious. We're seeing evidence of
category blur
in nearly all segments. This used to sound like hyperbole until there was an app for everything. Even seemingly uninterruptible segments like durable goods or food seemed to be on the table when Amazon acquired Whole Foods and featurized entire industries like shipping and home entertainment.
Category changes can be hard to see within an industry. A new lens can help you chart a sustainable course.
Define your claim or promise
Once you define your audience and category, the next strategic decision is your promise. What are you claiming in the marketplace? How are you going to be different or better? Language can start to play an important role as we think about how you communicate your message, but your claim is a positioning choice – independent of language. Your claim is not a slogan, it's a direction.
Your claim is a pathway for innovation. Starting to say different things can allow your company to do different things.
Define your brand identity
Ultimately, these decisions help you create a
meaningful brand
– not just what customers are buying, what they're buying into. Brand hierarchy, logos, names, messages, tone, imagery, standards, and other brand assets add up to an effective brand program.
Brands are the perception of value in the mind of the customer. A clear definition and narrative can shape how customers think and what your company can do.
Define how you will support your claim
What will you do to support your claim? Making a claim doesn't make it true. Teams building meaningful brands understand
customer experience
as a strategic differentiator. CX strategies are how a positioning claim is supported and how you deliver on value propositions. People are loyal to brands that deliver on their promises.
Customer loyalty is earned one touchpoint at a time. A proactive approach to CX and UX design will help to improve each customer or user interaction.
Doing the hard work of creating a strong position is a critical step to create a sustainable brand. Companies with a weak position may need to be reset entirely. Strong positions can be improved – you can always increase your understanding of customer needs and category shifts, refine how your brand and claim reflect the current reality, and how you will innovate to deliver customer value.