For anyone who has been to NeoCon, it is impossible to walk away from the show without a memory of the big guys.

By contrast, ICFF is a much flatter show – literally as well as figuratively. Not all of the spaces are the same size, but the distinction between the biggest and the smallest exhibitors is far less apparent than it is at NeoCon.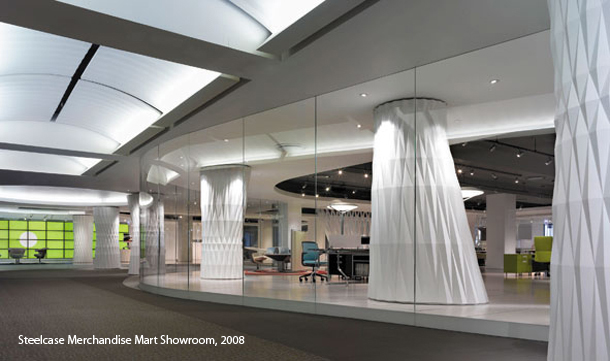 In his 2008 New York Times bestseller, The Long Tail, former WIRED editor-in-chief Chris Anderson prompts an important discussion about what happens when everything in the world becomes available to everyone. From his perspective, products that are in low demand or that have a low sales volume can collectively make up a market share that rivals or even exceeds the relatively few current bestseller and blockbuster products.
Is the contract furniture industry shifting from an era dominated by a small number of large providers (see NeoCon) to a landscape defined by a greater number of smaller, niche providers (see ICFF)?
The auto industry, of course, has had its own big boys, known for decades as "The Big Three." Today General Motors, Ford, and Chrysler still exist, but in very different forms. As such, they are no longer referred to as "The Big Three," at least not by anyone concerned with the facts. Another 10 to 20 automobile manufacturers have shifted the landscape of their industry to one defined by a greater number of smaller, niche providers – and this list is growing.
Distribution in the contract furniture industry is very different. The top 10 providers represent 94.6 percent of U.S. sales. The top 3 represent 51 percent.
We've discussed this scenario with a few contract furniture industry long-timers, and the theme of their responses revolves around a theory that their industry favors size. Essentially, the bigger players have more products, presumably better products, and products that are more broadly applicable. The depth of sophistication offered by (fill in the blank with one of the industry's "Big Three" providers) far outweighs that of the smaller brands."
It's a solid argument, however, the same points could be made for the automotive industry. So why is the contract furniture industry so resistant to a long tail distribution?
A significant contributing factor has to be the process, habits, and infrastructure that have become the standard for how interior designers browse, search, and filter contract furnishings.

The total number of practicing commercial interior designers in the U.S.(those working for firms as well as those self-employed) has dropped 20 percent between 2008 and 2011.
On top of that, experts predict that demand for nonresidential construction, which has been pent up since 2008, will result in a construction boom.
The potential combination of more projects and fewer designers to complete them puts the depleted ranks of practicing designers in a position where they have no ability to effectively consider all of their choices. Our own research into this customer segment has identified a pattern that we call "The Law of Three." Faced with an overwhelming number of options and little time to sort through them, and given no system that encourages exploration, designers have no choice but to start with the providers they know. Very frequently this results in a list of three of potential providers, hence The Law of Three.
We've also spoken to many in the industry who validate this scenario by stating that contract furniture is a relationship-based industry. This might be true, but is it ideal? Returning to the automotive example, the history of car-buying traditionally started with a visit to a local dealership.
In order for the long tail effect to take hold, a new system is required to enable markets to effectively and efficiently move from a biased relationship- and/or company-based starting point to an unbiased product-based starting point.
Fast forward not-too-many years, and the automotive landscape has changed significantly. The quality level of cars is almost assumed and warranties of 10 years or 100,000 miles are standard.
Enter the aggregator: Autotrader.com, Cars.com, etc. In a recent J.D. PowerAutoshopper survey, consumers indicated that automotive aggregation sites are visited by 73 percent of all car shoppers. This survey also found that a dealer's best chance of receiving leads from brand defectors (80.2 percent) was through these independent sources. Even brand loyalists visit independent sites at a rate far greater than they visit either manufacturer or dealership sites. The use of aggregators has become the default starting point for car buying.
Aggregators are not new to the contract furniture industry. The leading European aggregator, Architonic, claims 2.4 million American visits per year, more than 140,000 products in their database, and average site visits of five minutes and six to 10 page views.

Domestically, after only three years in existence Designer Pages boasts more than 150,000 registered design users and 1 million product views each month. As of March 2013, Designer Pages represented more than 200,000 products from 4,000 manufacturers.
We believe the transition is inevitable. "The Law of Three," just like "The Big Three" auto makers, is not consistent with what Anderson identified as a core market requirement — an abundance of choice.